Pr . Mokhtari Soulimane Nassima Amel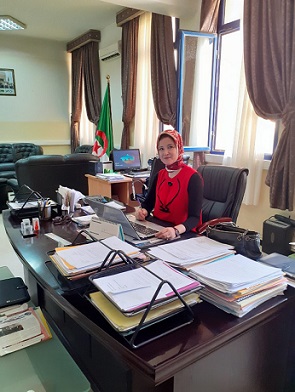 The Faculty of Sciences of Nature and Life, Earth Sciences and Universe covers (encompasses) five departments (Biology, Agronomy, Ecology and Environment, Forest Resources, Earth and Universe Sciences) and is one of the largest faculties of Tlemcen University with more than 5000 students. It puts forward rich and various courses as well as interesting opportunities for the socio-economic sector joining the field of the environment to health.
Our aim is to put in place a collective and dynamic team, realizing a series of reconciliations necessary to face the challenges that lie ahead and work in harmony. Our strategy is to bring together the strengths and coordinate the resources of the entire faculty for the benefit of its mission within the university.
The development and channeling of the potential energies of our faculty's community are based on the achievements and the existing strengths of our institution. Therefore, the students will benefit from personalized quality coaching (framing, supervising) from teachers who can not only pass on the necessary basic knowledge to them, but also their enthusiasm for research and make them aware of the importance of scientific challenges and development.
We all must contribute to the success of this faculty, which will depend on our ability to act with solidarity and determination.
Dean of the Faculty S.N.V / S.T.U 
 Mokhtari Soulimane Nassima Amel